Staff Interview
A.I / H.A / J.C / S.L
2DCG Artist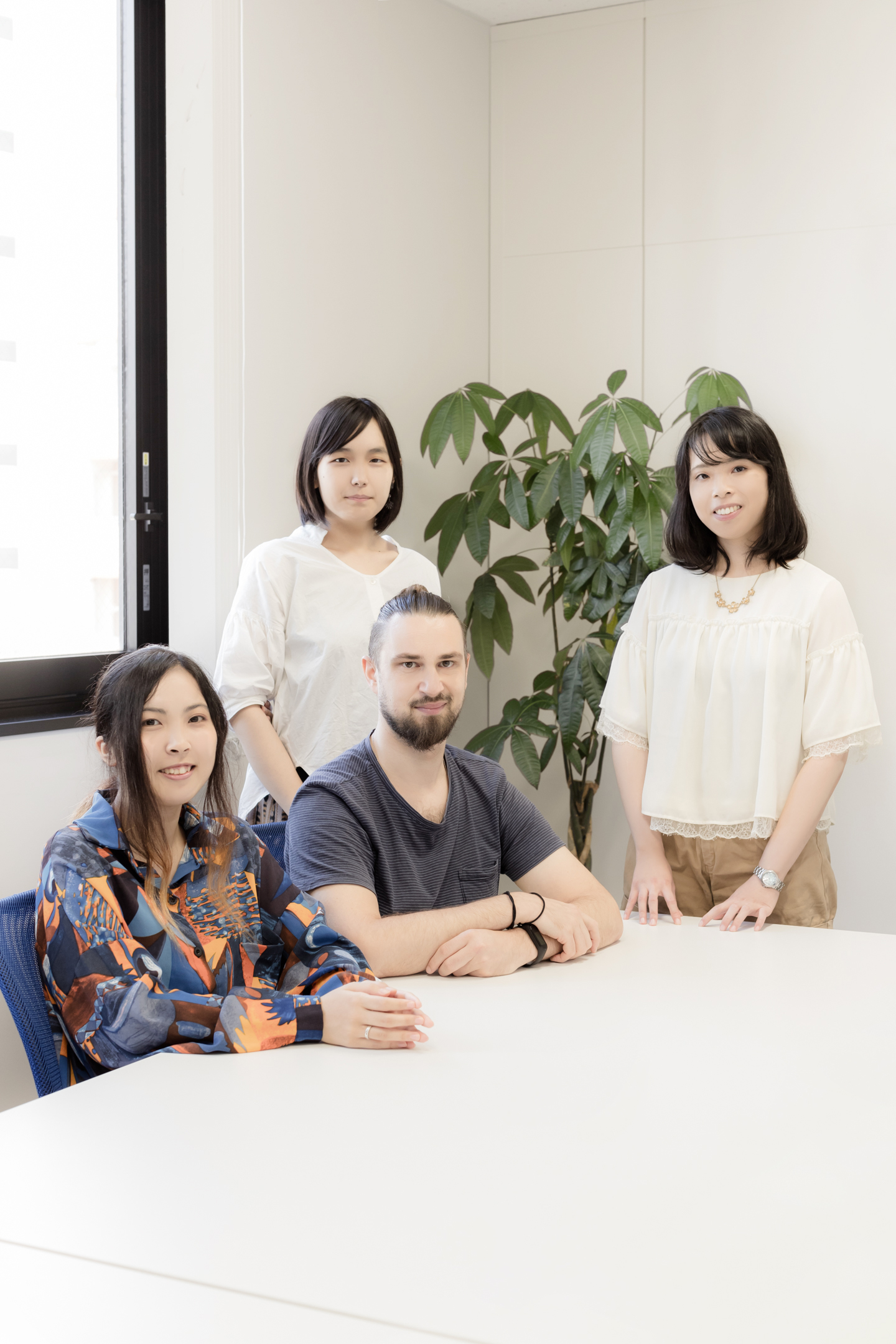 Profile
A.I
Graduated from college in the Kanto region, majoring in illustration and manga.
Joined Soleil as a temporary employee in 2018, and later promoted to a full-time position.
Now mainly in charge of costume design and character illustration, and currently working on a a game project yet to be released.
Loves VTubers, and is now studying how to use Live2D during spare time.
H.A
Born in Kawasaki, Kanagawa, near Tokyo.
Started a career in the game industry as a 2D Art Director, after graduating from an art university with a major in printmaking.
Joined Soleil in 2020.
Also does ink drawings, chalcography, and loves drawing zombies the most.
J.C
Born in France and studied fine art for over 5 years. Started working as a concept artist for the games and film industry in 2006, soon after graduation.
Has travelled and worked in different countries, before coming to Japan.
Joined Soleil in 2015 as a concept artist.
Currently working on a high-end action game currently slated for release on next-gen consoles.
S.L
An Australian concept artist who dreamt of joining the Japanese games industry as a child.
Arrived in Japan in 2017, and joined Soleil in 2019.
Likes to paint in many different styles, but Japanese anime and realism are considered to be the favourite.
Speciality is in character illustration and character concept design.
Currently also working with J.C on the high-end action game project.
Thank you for taking the time to attend this interview today. First of all, please tell me what you are doing at Soleil.
H.A:I work as an assistant art director. Specifically, I handle the outsourcing of illustrators, create the design documents, provide feedback and correction on the illustrations, and do quality assurance.
Do you also communicate with the game designer team?
H.A:Yes, that's right. I'm the point of contact for the UI/UX team as well as the 2D team in the current project between the planning team along with the art manager.
What about you, A.I?
A.I:I draw illustrations, like card illustrations and the full body character illustrations in games, costume design and asset design. I'm also good at drafting the composition, so I'm in charge of making a first base for the overall direction of the illustrations too.
S.L and J.C, you also draw illustrations, don't you?
S.L:Yes. Currently, I'm brushing up on item designs, creating UI assets and cut-in illustrations. I also did some concept design for backgrounds and buildings.
J.C:My main job is creating concept art. To be particular, I create guidelines for 3DCG artists to create their models. When I'm not working on concept art for a project, I'm also involved in lighting, post-processing, and other tasks that 3D artists do.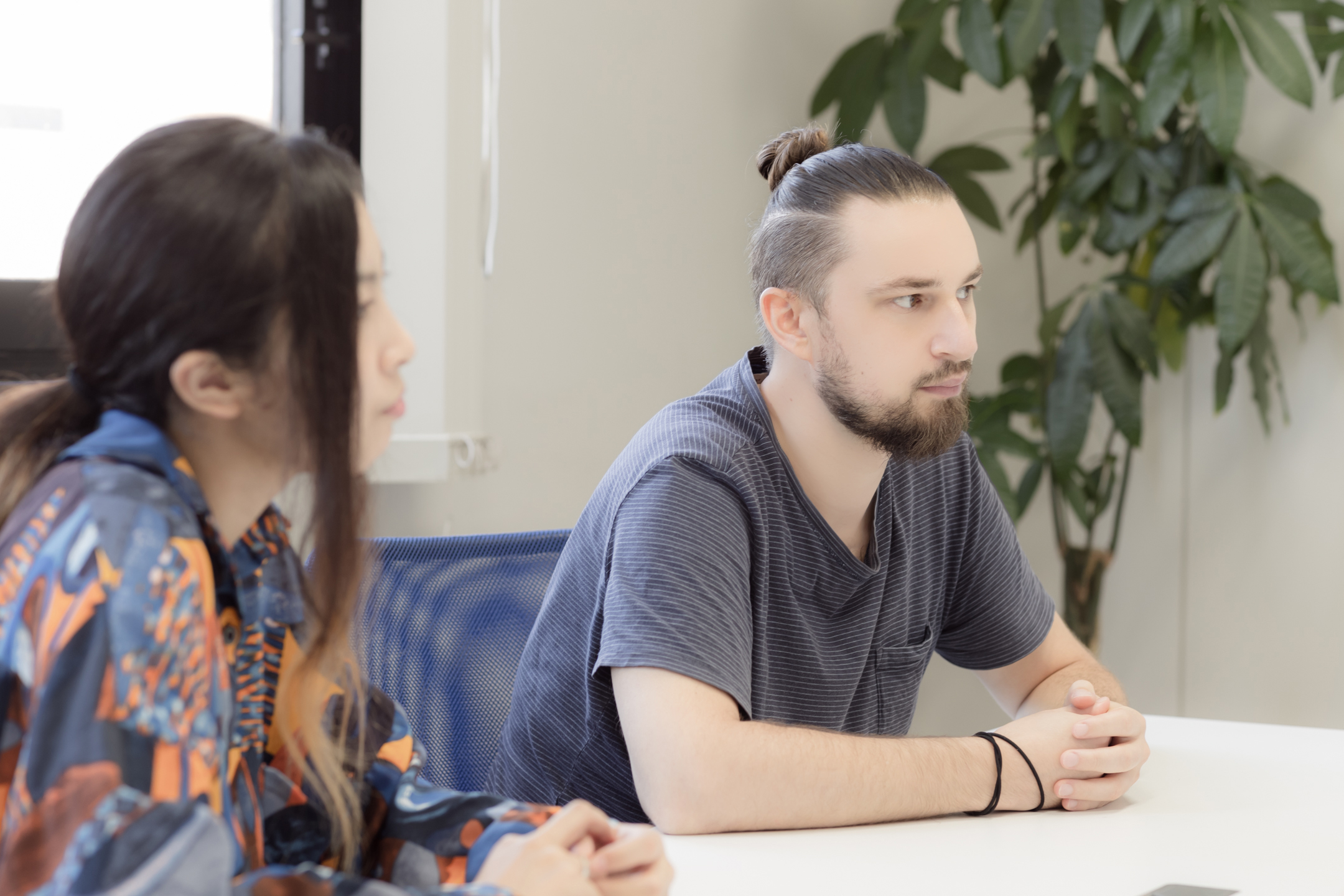 I guess you could say that 2D artists have a wide range of duties. By the way, why did you all decide to join Soleil?
A.I:I wanted to join a company that would let me do what I wanted to do, and Soleil were looking for someone who could do costume design, so I joined as a temporary worker in Soleil at first. I love costume design! After about half a year, the company offered me a position as a full-time employee because they wanted to hire me not only for costume design but also for character design.
At Soleil, there are many people who become full-time employees from temporary worker. I think J.C has been with Soleil the longest out of all of them.
J.C:I was introduced by a friend. I joined the company in 2015, six years ago, and at the time it was a very strange ...... odd company. When I went to the interview, a very flamboyantly dressed person came out, and after a short conversation, he told me to start the job from tomorrow (laughs).
I didn't know it was possible to be told to come tomorrow (laughs).
J.C:Yeah. I was surprised too. But the people at the interview were very kind and fun, so I decided to join the company.
Six years have passed since then, and the number of employees has tripled, so the company has changed quite a bit. The number of normal looking people has increased (laughs). Transportation expenses are now paid in full, and overtime hours are now closely monitored, so you can't do overtime without permission from your boss. The company was so chaotic before that no one knew how to keep track of the paid leave (laughs).
Everyone:(laughs)
I didn't know there was also such an era! S.L, how about you?
S.L:The company I worked for before was developing games for smartphones. But I really wanted to do concept design for console games, so I started looking for a new job. I was applying for several other companies at the same time, but the interviewers at Soleil were very friendly, and I felt very comfortable with the company because it seemed more open than other companies. I could hear the laughter of all the staff members from the hallway of the conference room, and I thought the cheerfulness of the atmosphere was very nice. That was one of the deciding factors for me.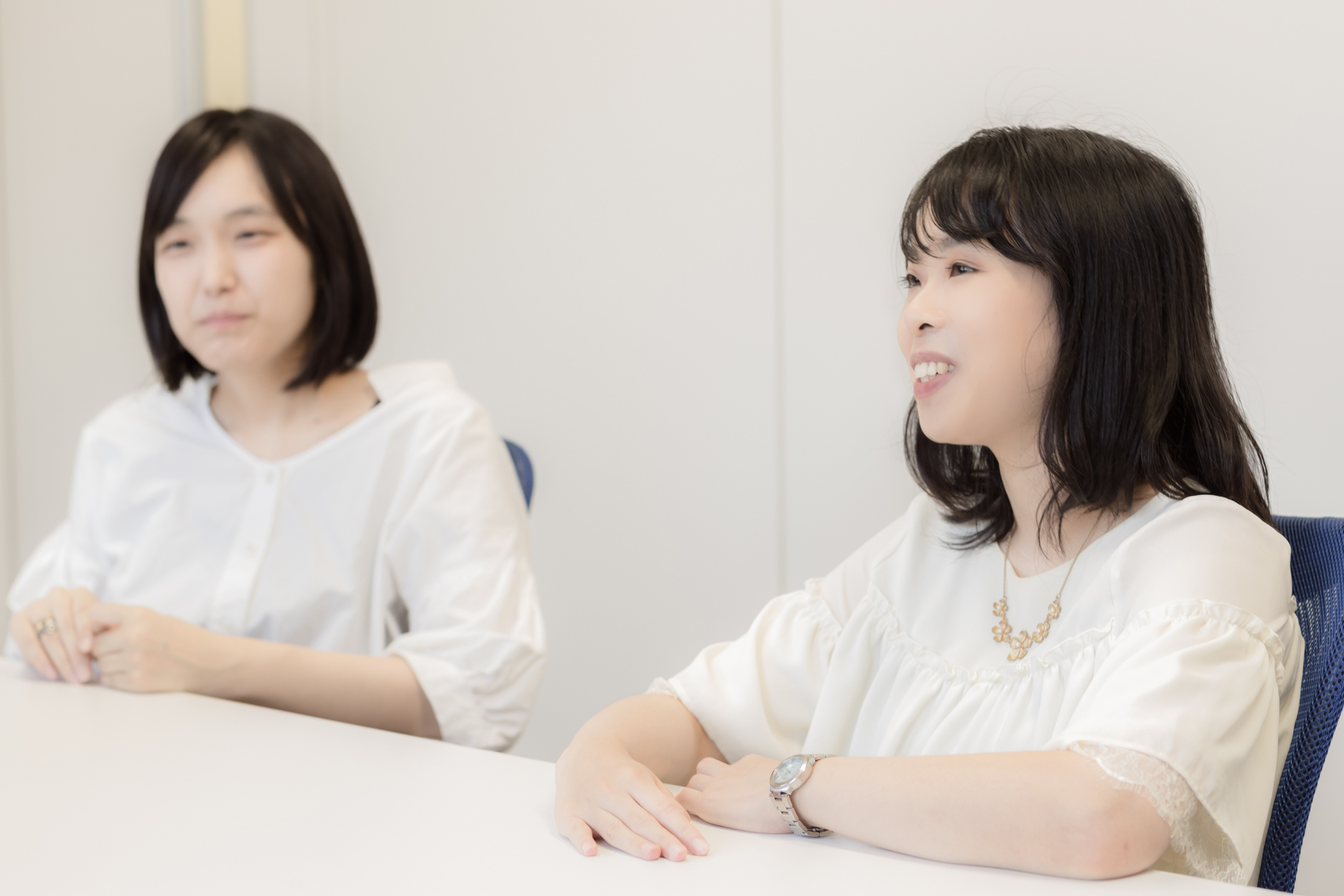 I also think it's quite a friendly company! How has it been since you joined the company?
S.L:Right now, I'm working on a large-scale consumer game development project, which I've always wanted to do. I was also very proud of my previous project as well, because it was a big IP that everyone knew. I feel that being involved in such a big title is one of the good points of joining Soleil.
H.A:At my previous company, I also created illustrations for smartphone games. I wanted to develop new games and work on newly developed projects, so I applied to Soleil.
It was a big deal for me that I was assigned to a newly developed project soon after I joined the company, as I only had experience in games that have already been released.
Also, there are many opportunities here to learn from senior artists who have been in the industry for a long time during the course of my daily work, and I feel blessed in this aspect as well.
It's nice to have a good training program for someone who hasn't been involved in game development for long.
A.I:When I joined the company, my mentor suggested that it would be good if I could study not only 2D but also 3D at the same time. I had been working on face painting and costume design for 3D models, and it would be useful to have some 3D knowledge for drafting the designs. I was very happy to have an environment that allowed me to try new things, and an environment that trains new employees to broaden their skills for future work.
What do you think is the best part of Soleil?
H.A:I think the level of pursuit of quality is very high. The company's attitude of never compromising and thoroughly eliminating any areas of concern has significantly improved my awareness of quality assurance. I feel the will to make good games with an emphasis on art. Everyone's enthusiasm is high. And the seniors are very strict about quality (laughs). I think that's one of the good things about Soleil.
A.I:I'm glad that we're developing not only domestic IPs but also globally popular IPs like "Samurai Jack: Battle Through Time". I feel happy that I can be a part of the global contribution.
J.C:So that's why there are many members who are from overseas like me. My Japanese is getting worse and worse because there are so many foreign colleagues. It's very comfortable, but also not so good for me (laughs).
S.L:I heard that the company is going to be developing an original IP, and I'm really looking forward to that. I'd love to be involved in the endeavors of such an enthusiastic company!
I'm also looking forward to Project EDO.
H.A:I'm also excited about the development of the original IP. I really want to do concept art for an original IP (laughs). I can see how we are growing from the standpoint of an employee, and it is interesting that I am a part of that.
Thank you, I am also looking forward to the future development of the company.
Now, I'm sure there are some people reading this interview who want to be a 2D artist. Finally, please tell us what you think is important to become a 2D artist.
J.C:Studying and practising are important of course, but it is also very important to input new things and be influenced by various things. For example, going to museums, watching movies, playing games... etc. I often go to see Japanese Butoh on weekends.
A.I:I also think it is very important to have input. Since joining Soleil, I have been in charge of designing more than 100 costumes, and sometimes I was stuck for ideas. I realised the importance of having to draw from my own knowledge and experiences . Even just browsing on the internet changes the amount of information I have. The trends of the time are also important, so it's a good idea to constantly update your information and have a file ready for reference.
S.L:Researching companies is also important. If you want to enter the game industry, it is important to first think about what kind of company you want to work for and observe the direction of that company carefully. It's a good idea to do research on how you can brush up your portfolio to make your works resonate and look more attractive to the company. If you're applying to several companies, if you're able to, you should tailor your portfolio to each company!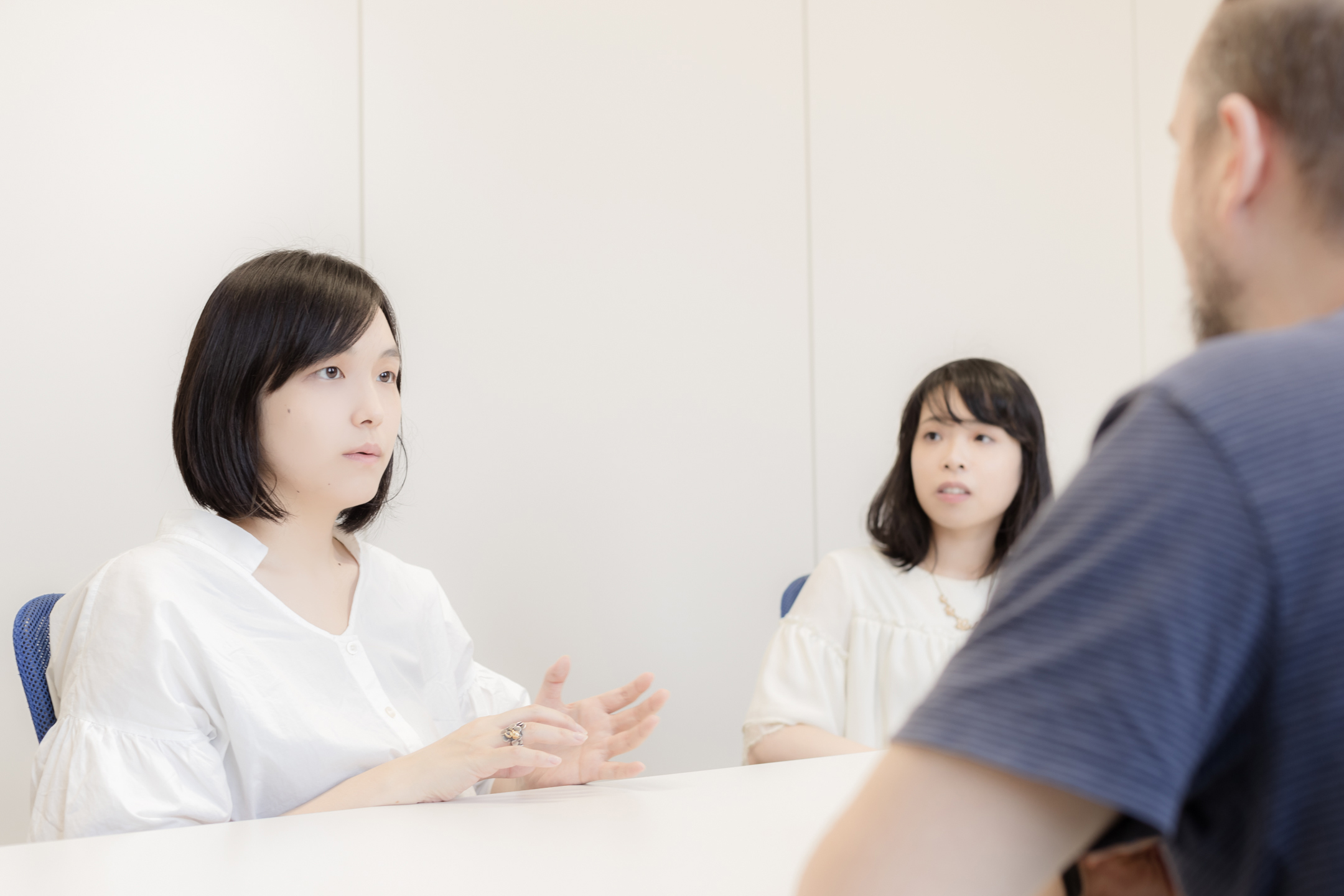 H.A:I would like to say that especially for students, to have a good understanding of the fundamentals of drawing. When you draw for work, you are making a product for which you are paid by the customer. For example, wouldn't you be upset if the sewing of a bag you paid for was a mess? In order to avoid such a situation, I would like you to master the basics of sketching.
Sometimes people say, "I'm not good at sketching." This may be because they haven't found the fun in sketching yet. Surprisingly, it is as much fun as drawing illustrations, so I hope you will enjoy practising it while finding your own joy in sketching.
S.L:Drawing as your work and as your hobby is really different. For example, even if your hobby is anime-style illustrations, your company may ask you to draw in a realistic style, or to draw something that has to fit the art direction of the original IP. I think the difference between a job and a hobby is that you have to challenge not only what you "like" but also to be able to adapt to different styles and subjects. So I think it's a good idea to start training while you're still a student because it will broaden your horizons.
J.C:And passion! Passion is the most important thing. After all, without it, it's hard to keep drawing. There are many things that are difficult, like being asked to correct and re-draw your work over and over again. But if you have the passion, you will be fine. I'm sure the passion is there, just try not to lose it!