Staff Interview
Keitaro Shitakura & Sushil & Sumanth
Animator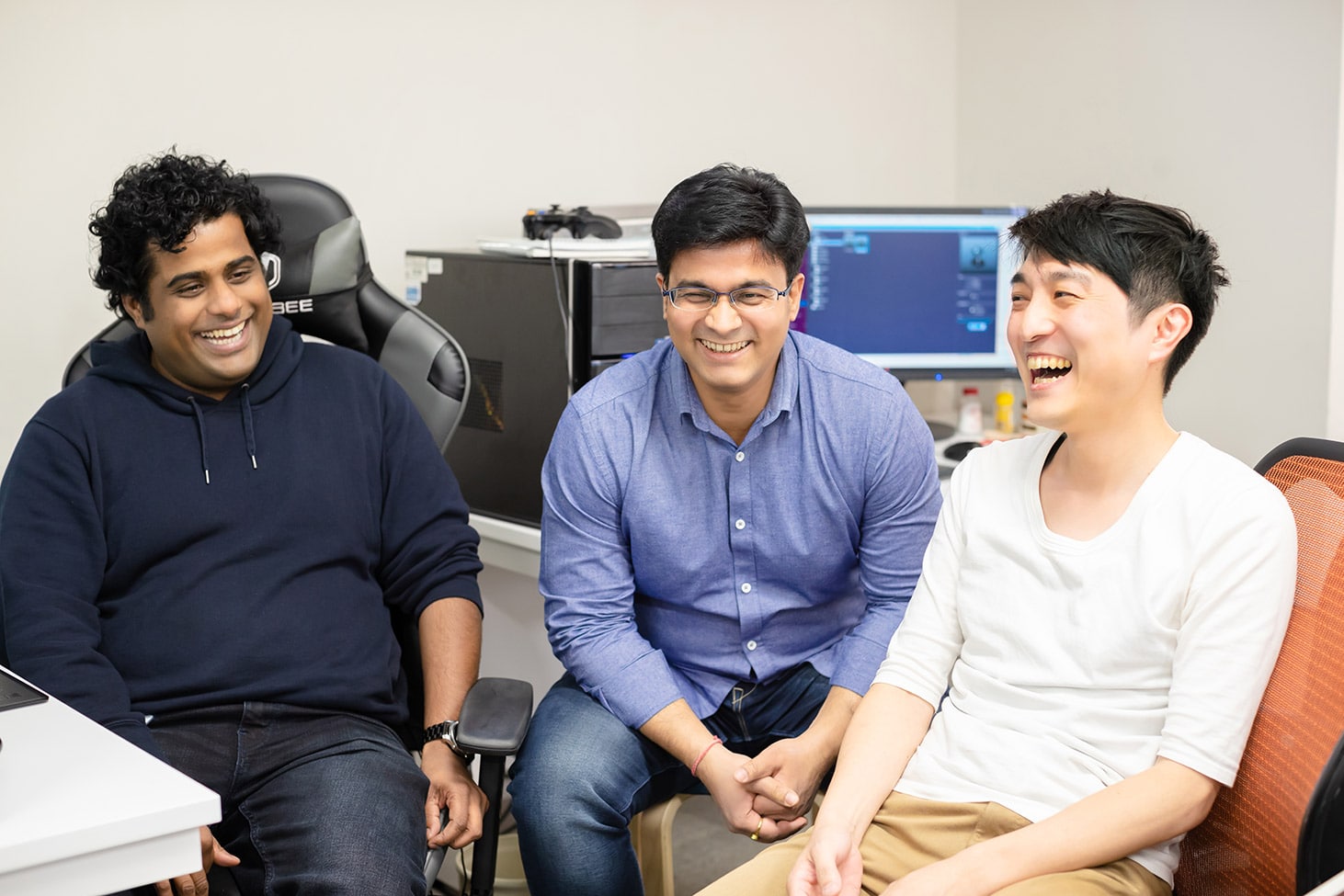 Profile
Keitaro Shitakura(right)
Joined a video production company and created videos for use in pachinko/slot machines, after graduating from university. Joined Soleil in 2010.
Was assigned to the animation team, and worked on the development as an animator on Devil's Third, and is the lead animator on NARUTO TO BORUTO: SHINOBI STRIKER and SAMURAI JACK: BATTLE THROUGH TIME.
Sushil(center)
An animator from India. Majored in botany in college, and afterwards studied animation at the MUV Institute of Digital Arts at Chennai, India. Has worked on several TV series in India, New Zealand and Japan including Kungfu Panda, Penguins of Madagascar, and Monsters Vs Aliens.
Joined Soleil in October 2015, as the first time working on games. Such projects included Devil's Third, NARUTO TO BORUTO: SHINOBI STRIKER and SAMURAI JACK: BATTLE THROUGH TIME.
Sumanth(left)
Began a career as a rigging artist, and eventually became more interested in all technical aspects of 3D art. Programming also became a source of enjoyment, as well as the challenges that came across with the development. Currently working as a rigging and tool development artist for Soleil. Hobbies include kickboxing and tennis.
Why did you decide to join Soleil?
Shitakura:A colleague of mine had already been working at Soleil and invited me to join as well. I had been working on video production for pachinko/slot machines until then but decided to change jobs to fulfill my dream of becoming a game creator, which I had since my second year in elementary school.
What has changed at Soleil from the time you first joined the company until now? What kind of development do you expect to see in the future?
Shitakura:When the company was first established, there was a strong sense of the Japanese game development atmosphere from the good old days. However, I think that the atmosphere within the company has changed over the years. Our company's customs have changed as more and more people from other countries and subcontractors join. Even now, I feel that the company itself is constantly adapting towards a newer culture.
On the other hand, I also feel the spirit of "learning from the past" from the entire company. I feel that this is a contrasting yet valuable mindset in an industry that tends to focus on the next new thing.

In the future, I look forward to continuing to create an atmosphere of friendly competition between veterans and rookies, even more so than in the past.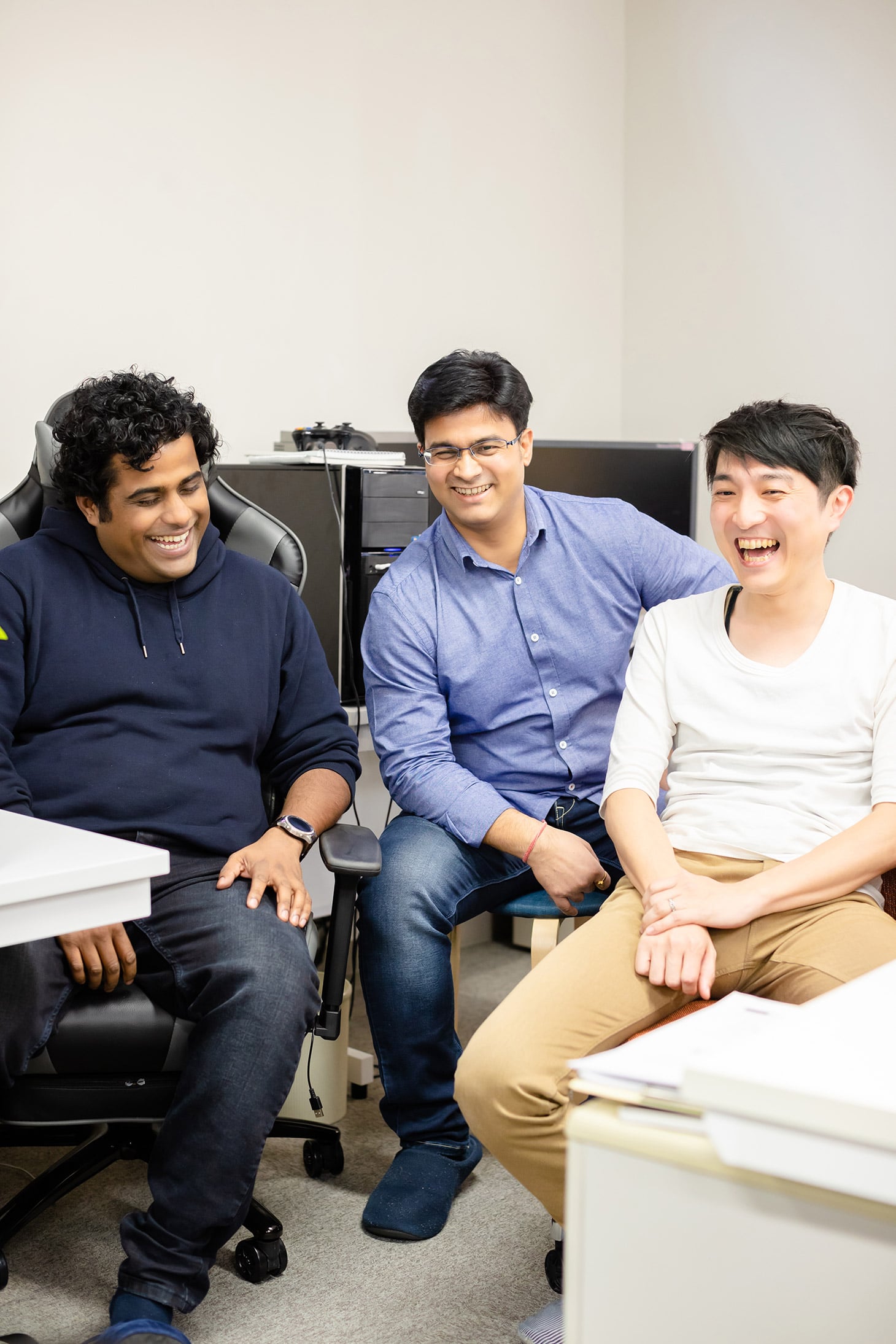 Why did you decide to work in Japan, as you are one of the people who influenced the newer atmosphere of the company?
Sushil:The company I was working in New Zealand closed down. I applied everywhere and fortunately got a job in Japan in December of 2013 and have been working in Japan ever since.
While looking for my next freelance work, I came across an opportunity for game development which I was interested in. Since I was new to gaming, I took it as a challenge and joined Soleil. Here, I've been learning a lot with each new animation I create.
Sumanth:Japanese anime and games were some of the reasons why I got into animation.
Looking back now, I cannot help but think it was meant to be.
I always loved working in companies that are not very big in size, and I'm also a big fan of Ninja Gaiden. It was a good decision to join as I'm able to learn a lot in all fields of game development now, as it is easy to communicate between different departments.
*NINJA GAIDEN is a ninja action-adventure game by Tecmo Co., Ltd. developed by Team Ninja. Soleil's current CEO Yoshifuru Okamoto, Director Katsunori Ehara, and Art Director Hiroaki Matsui were members of Team Ninja.
I heard that you both communicate in English, but were you good at English before?
Shitakura:I didn't get good grades in English until high school. I haven't studied much, but I've been able to communicate well. Somehow, I've been able to manage it. (laughs)
Now I'm trying to accumulate knowledge by listening to English conversation programs on the train ride home, but it is difficult because I'm not that good at studying... I think it is more fun and practical to learn English by interacting directly with the staff.
I really enjoy working and communicating with our foreign staff, and I'm working hard to improve my English through trial and error!
What is your goal for your job (making games)?
Sushil:My goal is to improve myself in the art of making games, and in the long run I want to make games based upon ancient Indian civilization.
Sumanth:My optimal goal as a Rigging and Tool development artist is to create a pipeline which is secure, functional and easy to use.
Shitakura:I'll be 40 years old this year, but I'm still inexperienced. I learn a lot from the veterans and younger staff alike. It's exciting for me whenever something unexpected happens; I think this is a fun profession that I'll never get bored of. This could be an exaggeration, but sometimes I think that game development might be my calling.
However, on the other hand, there are times when development can be frustrating because things don't go as planned. Even so, we hope to overcome those challenges and continue to enjoy development together to deliver even better games to video game fans.
Lastly, do you have any advice for the younger generation who want to enter the game industry, Shitakura-san?
Shitakura:I participated in a national tournament for a certain game before and enjoyed the experience of playing with and being a part of a gaming community. I would like to gain more of that type of experience, as I think new game ideas are born from conversations with the people you meet in those settings. If you want to make games, I hope you also love games even as an adult.